10th November 2019
Posted by:

Steve Lewis

Category:

Pembrokeshire Lamb
Fancy a change from turkey this Christmas?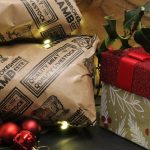 My children always say they want turkey for Christmas dinner, and often we comply.  We order a local free-range bird, season, cook, baste, and prepare all the trimmings to then eat.  Not that it isn't delicious, sometimes though a break is needed from turkey and its copious leftovers.
A fore rib of beef is another favorite too, but this got me thinking.  Christmas is a time of tradition but can also be a time to start your own family traditions and even try something new.
Wrapping the weeks fresh meat orders led me to think how I would utilize a Pembrokeshire Lamb meat box over the festive period. Lamb leg is delicious roasted, so the skin is crispy and the meat juicy and tender.  Flavours like cloves, garlic, red currents, even cranberries would work well to compliment this.   Recently I asked a friend who creates the most amazing, award winning preserves to create me a chutney to accompany our lamb and we weren't disappointed.  Her combination of apricots, garlic and a subtle undertone of rosemary blew me away, so much so that we have eaten it with both hot and cold lamb, leading me to think how well it would work with any leftover meat.  Taking a sneaky slice and a good dollop of chutney on boxing day, or even during the lull between Christmas and new year.  We have decided to include a jar of this in each meat box ordered before Xmas, I just hope we have enough. https://www.google.com/search?q=farmers+food+at+home&oq=farmers+food+at+home&aqs=chrome..69i57j0l2.5559j0j7&sourceid=chrome&ie=UTF-8
Shoulder of lamb lends itself to a long slow roast either whole or diced in the slow cooker, perfect to have bubbling away when rushing around both pre and post Xmas.  Stew freezes particularly well and is easy to reheat should unexpected guests arrive.  Cooking doesn't have to be time consuming all the time.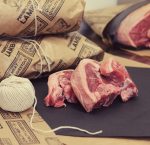 Breast of lamb or mutton forms a part of one of our rather unusual family traditions.  In the week before Christmas we like to have a family barbecue, yes you heard right.  We light a fire and lay the well seasoned meat towards the edge of the grate allowing it to render down and slowly cook, becoming deliciously tender and served with some warmed pittas goes down a treat. Alongside this some lamb cutlets, local sausages, hot chocolate and popcorn to finish.  The children love the novelty of a winter barbecue in the dark and play eagerly whilst the adults can enjoy a mulled wine.  Of course, we have to adapt if the weather is poor and move with care into one of the empty sheds.
The possibilities are endless, why not spend a winters evening all cozy and browse through your recipe books for some inspiration.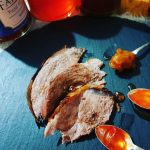 After all a lot of work goes into rearing our grass-fed lambs and mutton, it seems a shame to not allow it to shine in all its glory at Christmas.