23rd October 2021
Posted by:

Steve Lewis

Category:

Pembrokeshire Lamb
What is Hogget?
You may have heard that not only did we receive a 3-Star Award for our Hogget Shoulder at the 2021 Great Taste Awards, but we also won the coveted Golden Fork for Wales (the Oscars of the food world).  Since the award announcement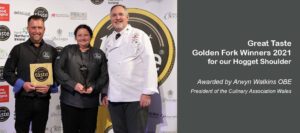 many people have been asking us:  What is hogget and what makes Pembrokeshire Lamb hogget meat so special?
The first question is the easiest to answer and that is a hogget is a sheep aged 12-24 months, the second part needs further explanation.
Depth and richness of flavour increase with the maturity of an animal and fat carries a lot of flavour.
Traditionally sheep meat contained more fat than it tends to have today due to modern-day consumer habits, health advice and the influence of large retail buyers.  What difference can large retail buyers have on the fat content of meat? I hear you ask.
Large retail buyers affect the fat content by dictating the specification of the carcass they will buy and even more so by dictating the price they will pay for it.  Large buyers have a strict specification in terms of fat cover and the weight of carcasses they will buy, with severe financial penalties to the producer for missed targets.  These specifications are understandable in that large retailers have fixed sized packaging for every product and their consumers expect consistent product.  However, this leads to little variation and choice for the more decerning consumer.
The price paid by large retail buyers has a huge impact on the fat cover and indeed the age of sheep at slaughter, as in the poultry industry.  The relative price a farmer receives for lambs has reduced over time and to survive they have been forced into the "race to 40kg".  What do I mean by the "race to 40kg"?  Farmers trying to make a margin selling lambs have been forced to reduce costs, the easiest way to do that is to keep the time the animal is on the farm to a minimum.  The most effective way of doing this is to produce a lamb that grows as fast as possible.  The downside to this is that increased growth rate is directly correlated to leaner animals and over time you end up breeding sheep with a heavier mature weight. Therefore, the lambs produced by them are less mature at slaughter.
As we at Pembrokeshire Lamb are not governed by large retail buyers we select animals when we believe they are in the optimum condition.  When we select lambs for our Pembrokeshire Lamb boxes we aim for the right level of fat cover to ensure the real sweetness of lamb comes through in the flavour.  For our hogget boxes we allow our lambs to mature slowly for at least a year to allow the muscles time to develop fully and take on the flavours of the natural environment.
There is of course extra work and expense involved with our approach but we believe it is justified in the quality of the product we produce.
In terms of developing flavour and indeed texture there is one more element to discuss and that is care and treatment of the carcass.  Hanging a carcass is where the carcass is allowed to hang under its own gravity to allow the muscles and tissues to relax from their state of work and to chill down.  Large retail buyers, driven by efficiency, have weekly cycles that allow the carcass to hang long enough for the meat to chill and 'set' but it does not allow the full flavour to develop.
At Pembrokeshire Lamb we hang our carcasses far longer to develop flavour and we use our local, award-winning butcher who treats the meat with the utmost care and attention.
Naturally there is far more to what we do than this, there are many pieces to the jigsaw here at Pembrokeshire Lamb, but I hope this gives an insight to the level of care and attention that goes into producing our hogget, a product worthy of a Golden Fork.
Slowly matured, never rushed.