22nd August 2021
Posted by:

Steve Lewis

Category:

Pembrokeshire Lamb
Scouring my recipe collection one day I came across the following hogget recipe, which I am sure would also work well with our mutton. It needs a bit of forward planning to ensure it marinates well, but the results are well worth it. Hogget from Pembrokeshire Lamb would make this dish a dinner party showpiece.
   Hogget and mutton from Pembrokeshire Lamb are perfect for this dish as the meat is slowly grown on the family farm in North Pembrokeshire.  The grassy, herb-rich fields mean the animals are free to roam and graze at their leisure and are selected when they are ready, not when a supermarket dictates.  Hogget is more mature than lamb, being between one and two years of age, and then mutton is older still. The muscles are working for longer, becoming darker, richer and containing higher levels of omega 3 fatty acids https://meatpromotion.wales/images/resources/Omega-3lambfinalreport1.pdf  due to the grass rich diet.  Keeping the animals longer on the farm requires a longer commitment of care and management, but we prefer quality over quantity.
Our Hogget is dry-aged for a minimum of 14 days in a temperature-controlled room.  This allows the muscle fibres to tenderise and some moisture to be lost and thus developing flavour and texture.
For this recipe, I used a half leg of hogget from Pembrokeshire Lamb as that was what I had available, however, both shoulder and mutton would work equally as well.
Ideally, this should marinate for 24hrs in the fridge.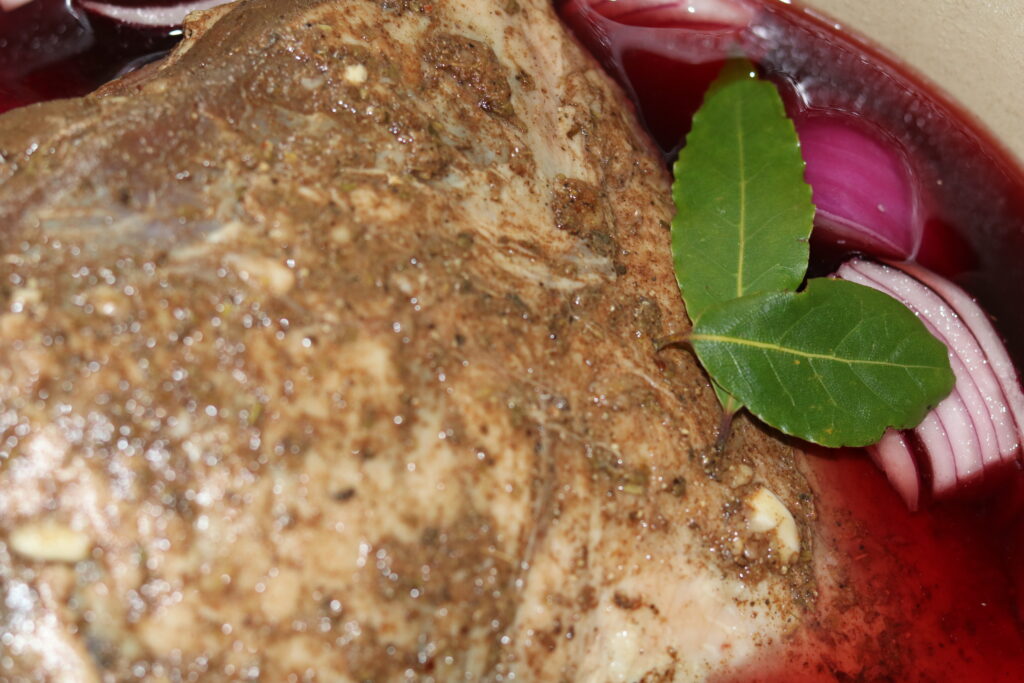 Ingredients:
1.5 – 2kg leg of Hogget from Pembrokeshire Lamb
Marinade.
4 garlic cloves minced
1 Tbsp dried oregano
1 Tsp dried thyme
1tsp sea salt
2 tsp freshly cracked black pepper
1 tsp chopped mint
Juice of 1 lemon
4 red onions roughly sliced
1 ltr Pomegranate Juice
2Tbsp Pembrokeshire honey (runny)
100g fresh pomegranate seeds to garnish
1 tsp chopped fresh mint leaves.
Method,
 Combine the marinade ingredients and massage well into the hogget.  Cover and refrigerate for 24 hours.
Bring the hogget to room temperature then in a casserole pot place ontop of the onions. Poor over the pomegranate juice, cover and cook for 4hrs at 130⁰C.
Pour the juices into a separate pan and add the honey, heat and reduce until thick and syrupy. Should take approximately 30minutes.  Stir occasionally taking care not to burn.
 Whilst the sauce is reducing recover the meat and increase the temperature to 200⁰C for 30 minutes.
Once the sauce is thick and glossy cover the meat and onions and return to the oven for 15-30 mins taking care not to burn it.
Garnish with mint, yogurt, and pomegranate seeds.
We ate ours with creamy mashed potatoes, however, couscous, salad and even new potatoes would work equally well.
It does sound a little complicated but really is worth the extra effort.  I have adapted this recipe from here if you would like the original.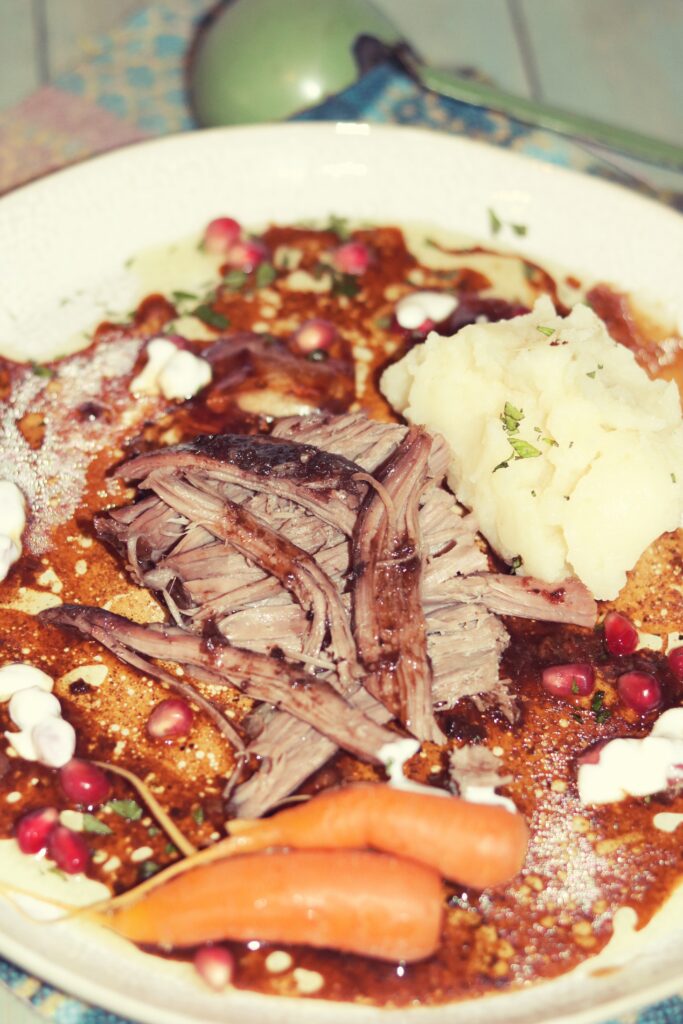 The final result. Clean plates all around, even the children wolfed it down.