The Mutton Taster Selection includes a variety of cuts of Pembrokeshire Mutton perfect for a variety of dishes. Pembrokeshire Mutton is available all year round.
Great Taste Award Winning Product
Mutton Shoulder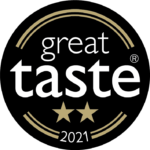 "You can taste the hillside, the herbs and grass"
– Great Taste Judge, 2021
Make a special order
if you'd like to request a special order or something that we presently do not stock please tell us by clicking here.
Our aim is to provide you with the best product possible, freshly frozen, within three working days*.
We are a small artisan business with a focus on quality not quantity, we only sell meat produced on our small family farm and therefore we have a limited supply each year.
Chilled meat can be ordered in advance, please complete this form and we will contact you when we have a timeline.
Our boxes provide the best value but if you require an individual cut of meat they are available upon request, but will be subject to P&P charges.  Please complete this form and we will contact you regarding availability.
This box contains a quarter of an animal, to aid sustainability and reduce waste the contents may vary.  For example, breast/cutlets/chops may be substituted for mince. If you have a specific preference please let us know.
THANK YOU FOR SUPPORTING OUR SMALL FAMILY FARM.